I was brought up to always send thanks for gifts and kindnesses.  I know it makes my day when I receive a proper thank you note through my letter box.  Of course a text, or email of thanks is lovely to receive too, but nothing beats a handwritten note.  So how do you write a thank you note?  And how can you keep it fun and fresh?
How to write a thank you note like a boss
1. The equipment
Choose a lovely note card, some writing paper, or even a postcard that you know your recipient will love (we have plenty of thank you cards at The Paperdashery).  Grab a pen, some cute washi tape and get thinking about what you want to say.
When I was small, Father Christmas used to bring notecards and stamps to my brother and I in our stockings, so that we would find it easy to send our thank yous.
2. The basic structure of a thank you note
Make sure you spell the recipient's name correctly, as well as their other half and anyone else you mention in the note.
Check you have their current address, including post code so that your thanks will reach them*.
After you have greeted your recipient (Dear …,) start with the most important message: 'Thank you for…'
Then write the gift or kindness that you received.  If it was a gift, name it.  If you were given money, rather than name the amount (which could be a little crass), you might write 'Thank you for your tremendous generosity', or 'Thank you for your generous gift'.
Mention specifically what you like about the gift, or how you are going to use it.  If you received money, you could say what you're planning to spend it on.
If you are giving thanks for a kindness, say how much you appreciate their help, the delicious meal they made, the wonderful company, or the chance to speak with them about something you are passionate about.  Whatever you are thanking them for, include details.
Acknowledge your relationship with the recipient and when you hope to meet with/contact them again.  For example, "It was lovely to see the whole family at Christmas and I'm looking forward to getting together again at Easter." or "We would love to host you for dinner at ours next time.  Do let us know when you are free next month."
Sign off in an appropriate way.  For example: "Thanks again! [your first name]", or (following an interview) "I hope to speak with you again soon.  Best regards, [your full name]", or (for a kindness) "I am so grateful for your help, [your name]".
3. Make it special
Use pretty stamps.  Ask your post office for their limited edition stamps.  They won't cost you any more, but will make your envelope look extra special.
Include a little origami
Send something unusual (we love these little matchbox messages from @kimslittlemonsters on Instagram)
Add some washi tape and stickers to the envelope
Use your best and neatest handwriting
Send it in good time – within a few days is best, but as soon as you possibly can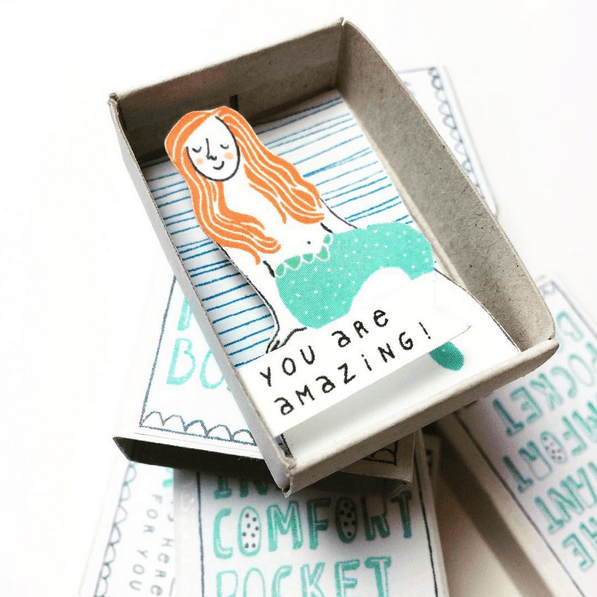 What to say if you didn't like the gift
It can be hard to write a genuine thank you for a gift that you wouldn't have chosen for yourself, however, since of course you do appreciate the kindness of the giver, you can still genuinely thank them.  You might write "Thank you for the ….  It was so kind and thoughtful of you."
I am sure you can find something about the gift that you did like.  For example: "Thank you for the Christmas jumper.  It is so warm and soft."  Or: "Thank you for the slippers.  I love the colour of them."
There is always a reason to say thank you and I think it's important that children understand this too as they grow up.  You are not only giving thanks for the gift, but for the effort and thought that the gift-giver has put in.
This is my 4-year-old's thank you letter to Santa (at the Nof Pole), which he wrote on Christmas morning.  He has definitely caught the snail mail bug!
Reasons to say thank you:
For gifts (wedding, birthday, Christmas etc).
For being given an opportunity (an interview from a prospective employer for example)
To your neighbours for feeding your fish while you were on holiday
To your child's teacher or care worker
For kindness (being cared for while ill for example)
To your host after a nice lunch or dinner
*A word of warning…
This year I let the kids put our thank you cards into envelopes together, before I addressed them.  We did get a couple muddled up, so the wrong thanks went out a couple of times!  I think they were still appreciated, but next time I will be double-checking before we seal the envelopes!
Save
Save
Save
Save
Save