I'm so excited to introduce today's guest-poster: Mary Badass Happy Life Coach from the Supercharged Club (an incredibly supportive network of amazing women).
You can join Mary and the Supercharged Club at their next Sunday of Wonder event on the 18th September.
Today Mary is sharing her genuine love of snail mail and the emotions associated with it (something we have in common)!
Over to Mary…
Sending LOVE in a little paper envelope
My love of post, happy mail, snail mail whatever you call it started at Brownie Camp in around 1985.
It was my first time away from my parents and I was spending 3 nights in an old church hall in the middle of the countryside in the summer heat. As a young child I suffered terribly with eczema, asthma and hay fever. To put me in the middle of the countryside, with long grass, horses; the kind of summer we used to have (scorching for weeks) and to say I was uncomfortable wasn't the half of it. Itchy, puffed up eyes, skin scratched so red raw it was in that open weepy state.  I was about 8 or 9.
I just wanted my Mum…
Something special…
To this day, I don't know how she got it to me. She must have got the address from somewhere… but there it was laying on my little camp bed when I returned from a day out… a little paper envelope.
My heart jumped, tears welled up, I can still feel it now… LOVE in a little paper envelope. So much love, you could almost smell it, see it radiating out of the envelope as I tore it open. Inside was a story. A bedtime story that I could read myself, that my Mum had written especially for me so that in some small way she could be there with me, reading me a bedtime story and tucking me in at night.
Mum has a talent for telling stories, an imagination for the magical and the fantasy. It made me feel better. There was very little I could do to manage the painful symptoms of my allergies. It was just something I got on with; spending most of my day running my hands and arms under cold water at every chance to cool down my skin. But that little envelope tucked inside my pillow was there, saying: 'you are loved', 'you are missed', 'you are thought of', 'you are special to me', 'I love you'.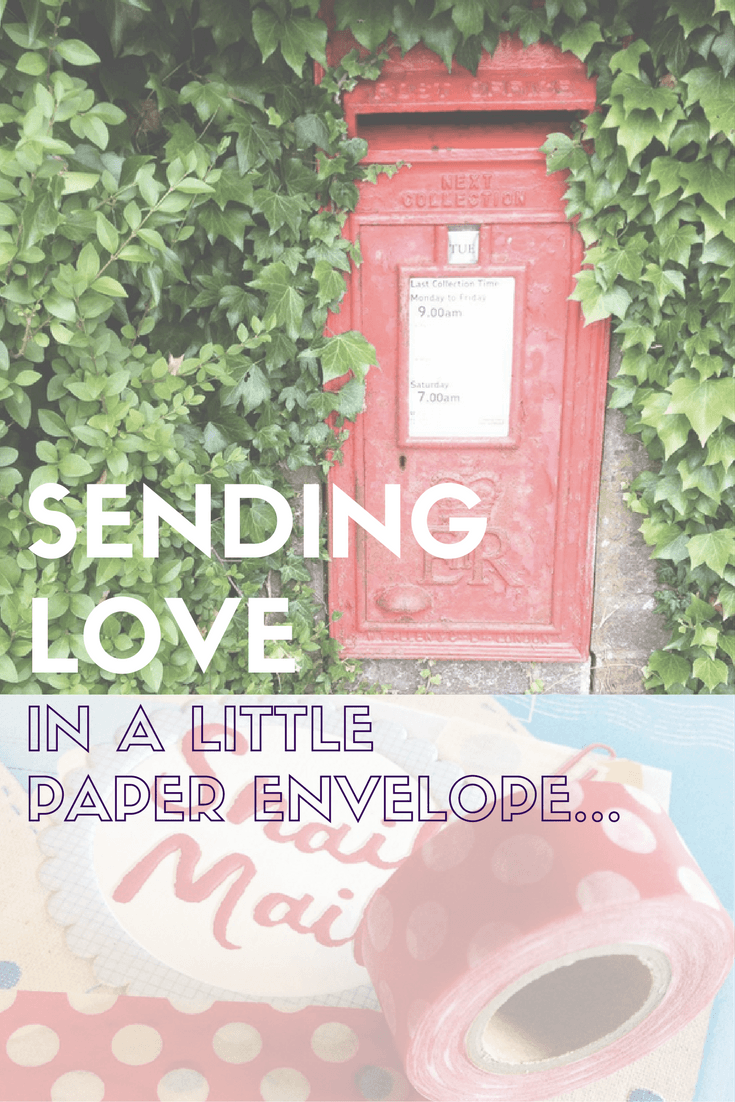 Something magical…
And so it started, my Mum and I have corresponded by mail for all of my adult life. Even though we speak on the phone every day, send texts and emails and see each other often, we still send each other cards, notes, ripped out articles from papers or magazines. In fact just before writing this I purchased a card to send to her later this week.
There is something quite magical at seeing someone's hand written words. They have a permanence. When you touch them it's as though you are touching the person. I keep a lot of the cards and letters, and enjoy reading them back and imagining the time in my life that we were referring to. As a Mum now myself I cant wait to start corresponding with Albie, having introduced him to the joys of posting letters (we always give them a kiss for luck before we pop them in the postbox) and he has experienced the joy of receiving mail (even though he was slightly disappointed it didn't contain a ninja turtle, words on a piece of paper don't mean that much to him right now but they will).
So in closing, write a note, a letter, send a postcard to someone you think about often. You don't have to wait for an occasion, any opportunity to show someone you love them and that you are thinking of them must be taken.
And what better way than post?  Something physical in a world of digital, something for someone to slow down to, to savour, to re-read, to keep.
You never know they might send one back…
Follow the Supercharged Club on Instagram for daily positivity!
Save
Save
Save
Save
Save
Save
Save